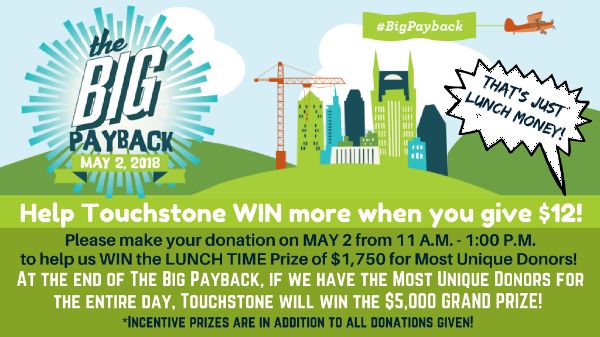 I was pretty young when I first heard that one of my siblings sat alone during lunch at school. It still makes me hurt to think of it. Why would other people do that? Students can be so cruel. But they don't have to be. One of the centerpieces of Touchstone's CiViL initiative is teaching empathy to students. Empathy starts when I ask myself how I feel. Then I ask how that other person might feel. Then I act kindly toward that other person. It doesn't have to be difficult, but it does have to be intentional. That's why we teach it. No one has to sit alone at lunch. 
Want to make lunch a safe place for students? Help us teach empathy through CiViL! 
When eating out, people spend about $12 for lunch. 
We're asking for a $12 donation from as many people as possible on 
MAY 2 through the BIG PAYBACK. 
Would you "Gimme Your Lunch Money" to help teens?  

GIVE NOW!  
 HELP TOUCHSTONE WIN THE LUNCH TIME INCENTIVE PRIZE: 
If you make your donation 11 a.m. to 1 p.m. on MAY 2, we can win a$1,750 incentive prize for having the MOST donors during this time slot. 
And if you can't make your donation during your lunch time…  
Make your $12 donation ANY TIME during the BIG PAYBACK to help us win the $5,000 GRAND PRIZE for Most Unique Donors in our division